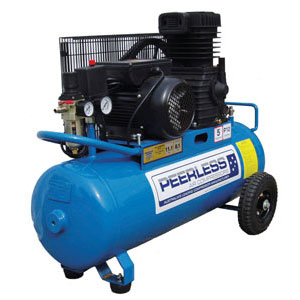 PEERLESS P12 Electric Belt Drive Compressor
Our oldest running model, the P12 is the starting belt drive model in our Peerless Industrial range of compressors.
It comes with a 2.5HP electric motor, twin cylinder cast iron slow revving side by side pump, 55 litre Australian approved air receiver and a high quality copper automatic drain filter regulator. It is extremely efficient as it only draws 7.5amps at running pressure.
Leaves an air outlet coming straight out of the air receiver to allow you to run two air hoses at once. Ideal for home workshop or builder. Smart Start filter and regulator included.