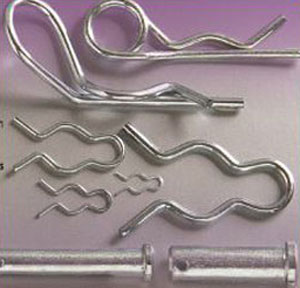 Hitech Fasteners Pins & Clips HITECH
**DOUBLE COIL R-CLIP-STEEL ZINC PLATED: The double wired looped head acts as an extra advantage over conventional R-Clips by helping to keep the pin engaged into place due to its stronger tensioning advantage. **HI-SPRING-STEEL ZINC PLATED: Greater locking potential due to it's twisted tensioning. **HAIR PIN RETAINER CLIPS-STEEL ZINC PLATED: A simple yet effective clip to retain a shaft into its place. **CLEVIS PINS-STEEL ZINC PLATED: To complement our extensive range of R-Clips & Split Pins, we have now added a new range of Clevis Pins.
To buy Hitech Fasteners Pins & Clips, please use the Store Locator below.